From the North to the South
Or actually; From the middle of Norway to the most southern parts of Norway! I have already written a post about my first trainee rotation in Bremanger. For the next rotation I went to Elkem Salten near Fauske in Nordland, and for my last period I am working with Elkem Technology in Kristiansand. These are the two rotations I will tell you more about in this post.
After easter in 2021 I moved from Svelgen to Fauske to work with the technical team at the Elkem Salten Plant. My task would be to make a roadmap for Elkem Salten to build a system for smart maintenance and to continue Mina Bjerke's work with the automated stoking machine. Two very exciting projects in digitalization. I was also included in a lot of the daily chores at the plant. In addition to very exciting tasks, the work environment at Salten was very including. I grew up in Finnmark, so I truly enjoy the laid back, free talking and easy-going northerners. No matter how stressful work was, someone always managed to make a joke or in some other way ease the tension.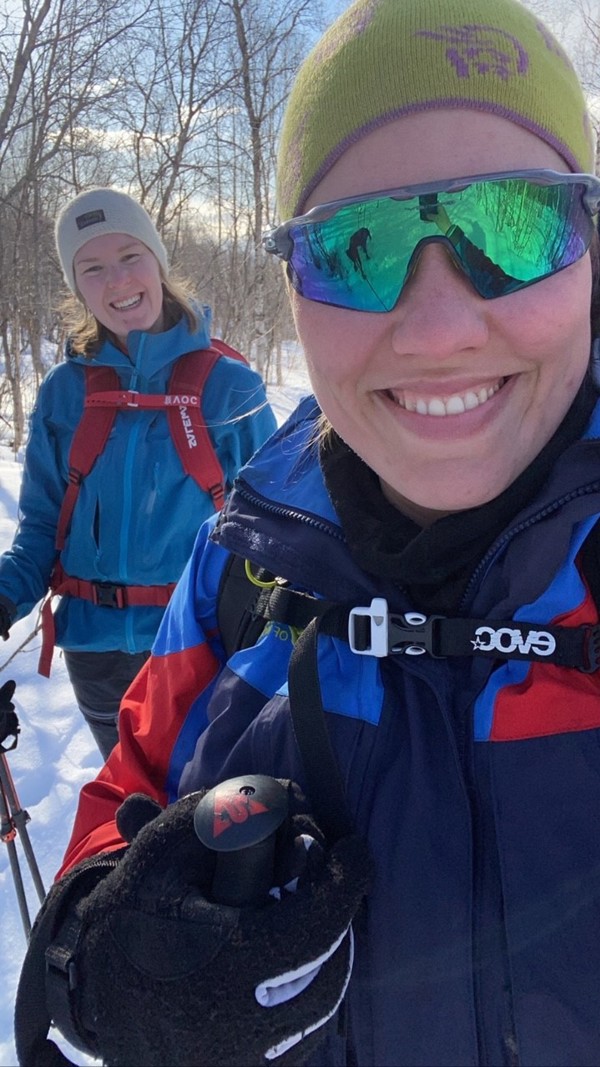 Caroline and I on a skiing trip in Fauske.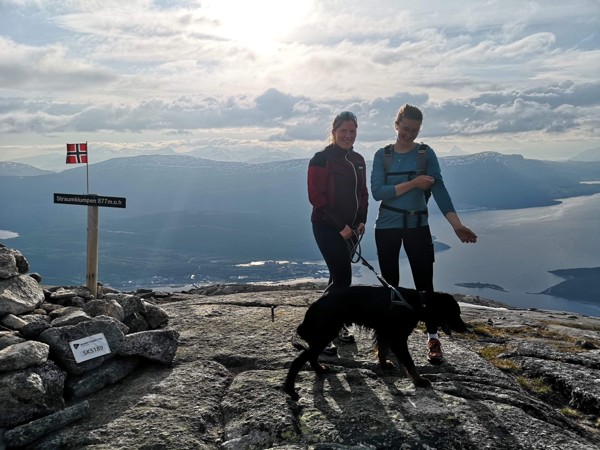 Caroline, my dog and I on Straumklumpen. You can actually se the Elkem Salten plant in the background.
So, work in Salten was good, but the free time even better. You have this truly wild nature right outside your house. Caroline Sindland was in Fauske at the same time as I, so we enjoyed some skiing trips before the snow left. I may of 2021 my boyfriend also came and visited, and we had a long weekend in Lofoten. We were so lucky with the weather and since it was in May, there were very few tourists there as well. A truly magical short vacation. In the summer, Caroline and I had some nice hikes and in the fall the grouse hunting season started. Frederik then joined me for a mountain trip at Saltfjellet to train my dog.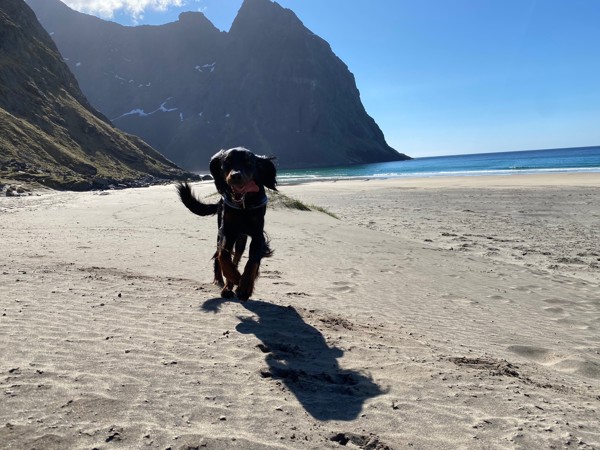 My dog at Kvalvika beach in Lofoten.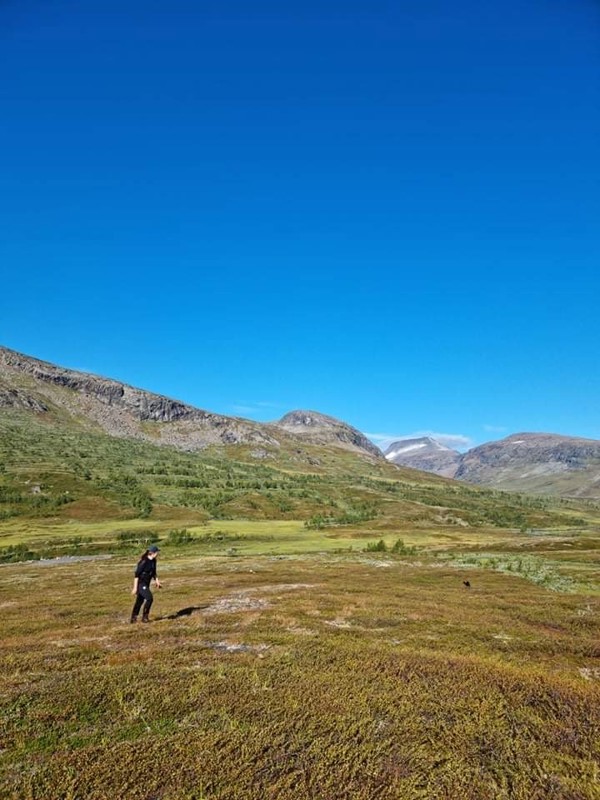 Me and my dog training in the mountains.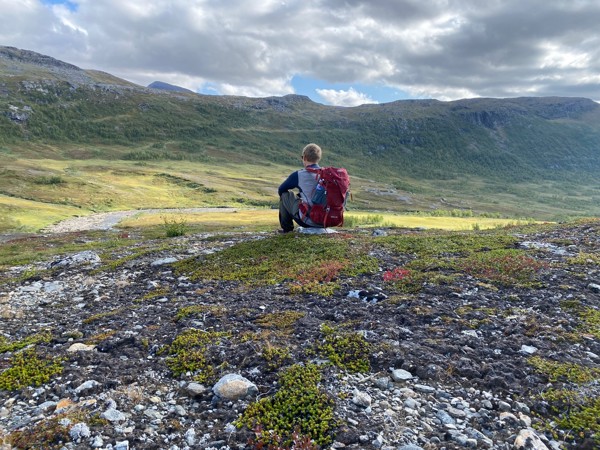 Frederik joined me for a trip in Junkerdalen.
But it was also my free time activities which cut my time in Salten short. In the beginning of October, I injured my knee bad. It turned out that I had ruptured my cruciate ligament and partially ruptured my outside ligament. Because of this I could not live by my self and had to move back to Svelgen to my boyfriend. I took so long to heal that I just managed to go back to Fauske to pack up my things and send them to Kristiansand. But this was a good opportunity to see how flexible Elkem as an organization can be.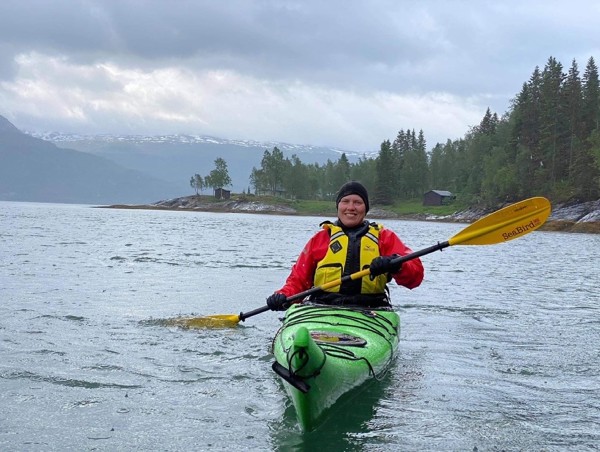 I was able to join a kayak course in Mo I Rana.
Elkem Salten made it so easy for me to work from home office in Svelgen. They provided me with everything I needed and included me in the coffee-breaks over teams. The trainee program made no objections and supported with the administrative issues around this.
In January I started to work with Elkem Technology in Kristiansand. This time I was given the opportunity to join in on a lot of digitalization project. My goal on this was to learn about what is already happening in Elkem and build up a bank of ideas to bring with me to a permanent position. I was also able to continue with some projects I already started where I'm able to continue practice some of mine digitalization skills. During my time as a trainee, I became aware of a role as a digital translator. This is a person who can talk to the persons with the domain knowledge and translate this to persons with IT- skills. This is a role I feel would suit both my interest and my skills, so I wanted to work with project that prepares and improves me for such a role.
In the beginning of April, I was scheduled for a surgery of my knee which I injured in the fall. Once again, I got to see what a flexible organization Elkem is. I got an agreement that I could work in Svelgen but still work for Technology in Kristiansand. This would reduce my absence from work, but also make it as easy as possible for me to gradually start working again after quite an extensive surgery.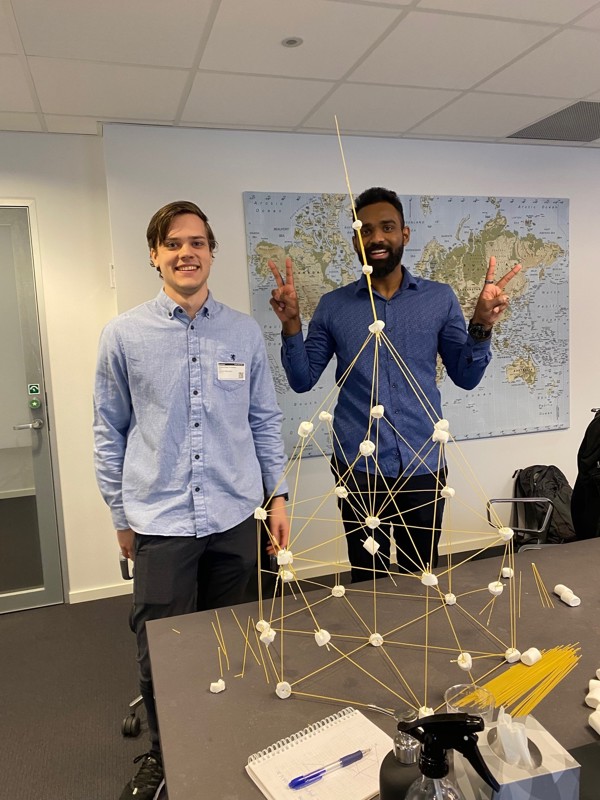 There was also a gathering in Oslo in March followed by a cabintrip tp Trysil. As you can see in the picture, we had som fun challenges. Andreas, Krishnan and I worked together on this tower.
Now I'm entering my final months as a trainee and I'm starting to look back at my personal growth during this. It had been hard and exiting to start fresh so many places. It is hard to always be the new one and always being fresh in the project, but this also enables a lot of personal growth. Now I know a lot more about what I want to work with and how I react to different situations. I have a broad network within Elkem, which is a huge company, and I know a lot about different projects that are going on. I know more about who to contact about different issues and I know a lot about the bigger strategic lines of Elkem. I feel that I am a lot more competent to start in a permanent position, than compared to when I was fresh out of university. I'm truly grateful to have had this opportunity to get to know myself and the company better, and I can absolutely recommend this experience to others.