Train your brain – Trainee style
In the middle of June, all the trainees were lucky to return to the academic world to attend Silicon Summer School, hosted at Reykjavik University in Iceland. The course consisted of lectures from both industry and academia, with 50 participants representing 6 countries around the world.
This blog post was written by our second year trainee Heidi Sæverud Hauge.
The Silicon summer school program was packed with lectures spanning across the value chain of silicon and ferrosilicon production, from raw materials to finished products. Additionally, several lectures focused on furnace operations and the fundamentals of silicon production. This was particularly interesting as I have little previous experience with these subjects. Moreover, an interesting lecture presented results from several furnace excavations, which led to deliberation on what does a furnace actually look like inside? Simple question, but with a difficult answer. Other important topics included refining and product quality, as well as gas and dust emissions.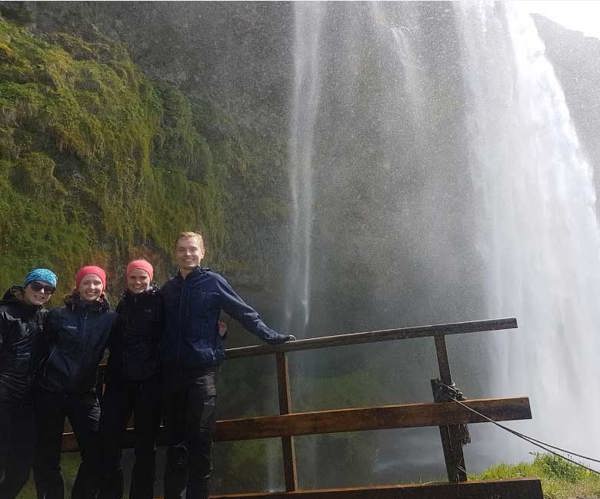 Picture: Waterfall-sightseeing on Iceland with Bård, Andrea and Marie with clear blue sky and sunshine. The photo is taken by Bård.

Back in Trondheim I am currently concluding my project work as summer is fast approaching. In my final trainee period I was given the opportunity to work with data science and programming, and my newfound slogan the past 6 months have been "I turn coffee into code". They say learning foreign languages open doors to a new world, and I claim the same applies for programming languages. I have become totally smitten and ridiculously engaged with the world of statistics and programming!

At the end of June it was time for a final farewell dinner. I think it dawned on both me and Marie that this would be our last weeks as Elkem trainees. As trainees, we get a unique opportunity to explore our interests and work in cross disciplinary environments. We get hands-on experiences with working on a variety of projects, and we are lucky to have great colleagues to guide us along the way. But among all the wonderful opportunities and experiences the trainee periods have granted me, what has contributed the most to my development both academic and as an employee, has been the people I've had the privilege to work with. All in all, it's the people you meet along the way that makes the journey!
Fortunately, I will continue my career in Elkem as I start working at Elkem Solar in Kristiansand in August.
Until we meet again, happy coding…
Best regards Heidi.