Production experience and cabin life
In Elkem's smelting furnaces, carbon must be added in order to reduce quartz to silicon. Traditionally fossil coal has been used, but Elkem has set a goal to increase the share of biocarbon in their Norwegian smelters to 40% within 2030. In November last year I was given the chance to participate in the production of a test batch of biocarbon briquettes. This meant that I completed my second trainee period at the headquarter in Oslo by spending one month in Quebec, Canada.
Starting out with a plant visit at Elkem Chicoutimi, my office for the next weeks was a shipping container in the industrial suburbs of Quebec. A former worker at Chicoutimi and I, together with great help from Elkem internals and externals, were the ones responsible for making the briquettes. Despite working in temperatures below freezing, constantly wearing a Hannibal Lecter mask and being exposed to the intense smell of biooil (imagine the smell of campfire), it was a truly engaging work. Not only did I contribute to produce the actual kilos of biocarbon, I was also allowed to come up with suggestions for productivity improvements.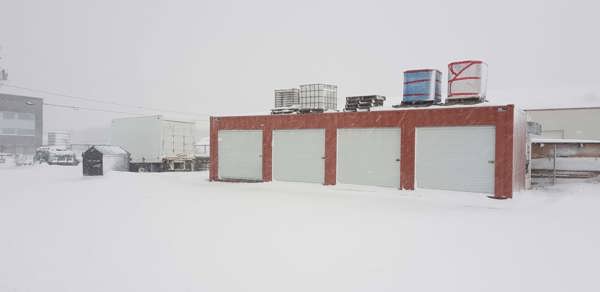 Far from the comfortable HQ life in Oslo: A wintry shipping container.
It was a bit of an exotic experience to stay in the rural areas of Quebec. The former Chicoutimi worker and I lived in a big house in the middle of the forest, and every night we had to light a fire to stand the cold (with sometimes heavy snow and -25 °C at most). As not all Canadians in the region speak much English, I also got the chance to refresh my rusty school French. However, as Quebec French is far from the French that I learned at school, I soon became aware of my limitations. The weekends were mostly spent by doing sightseeing in Quebec City and Montréal.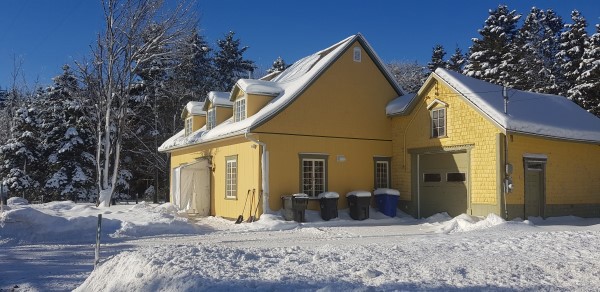 Traditional Canadian/Quebecois house where I stayed.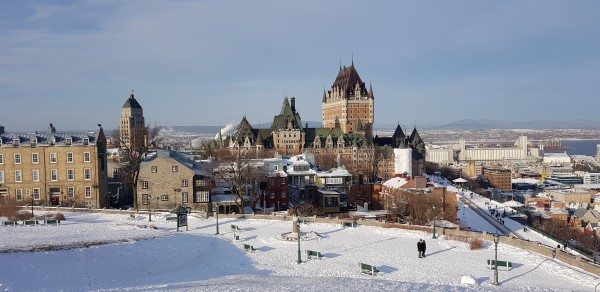 Château Frontenac in Old Quebec.
Back in Norway, more specifically in Kristiansand, spring has finally arrived. I have now been working at REC Solar for approximately three months, meaning that I am almost halfway in my third and last trainee period. Currently I belong to the solidification department where I am working with an improvement of the downtime registration system, as well as tracking the state of the moulds where molten high purity silicon is crystallized into ingots.
Being an Elkem trainee, another clear sign of spring is the annual Hafjell gathering. The fourth weekend of March, all the first- and second-year trainees were invited (plus last year's trainees, being an unwritten trainee rule) to a cabin owned by Elkem. This year we managed to fill the cabin with 11 people, travelling all the way from locations such as Lyon and Reykjavik. Complex logistics made it difficult to synchronize the arrival at the cabin, but we were all able to enjoy homemade pizza together in the evening. The grocery committee also did a good job by estimating 4,5 tortillas per person for Saturday night.
The Hafjell weekend is about skiing and testing the high-quality slopes, but it is also about testing the Norwegian after ski life at Gaiastova. For the two French trainees, this was a bit of a cultural integration lesson, as they had to quickly learn the lyrics and sing along to after ski hits such as "Raske briller" ("Fast shades") and "Pinne for landet" ("Stick for the country"). One of them had even practiced from last year and now knew the chorus by heart, thus blending in perfectly. The rest of the Saturday night was spent in the sauna for half of the group, whereas the other half were so exhausted by the day's activities that they fell asleep before midnight. Those who were smart enough not to choose a trainee period abroad, also had time for an extra day of skiing on Sunday before going back home.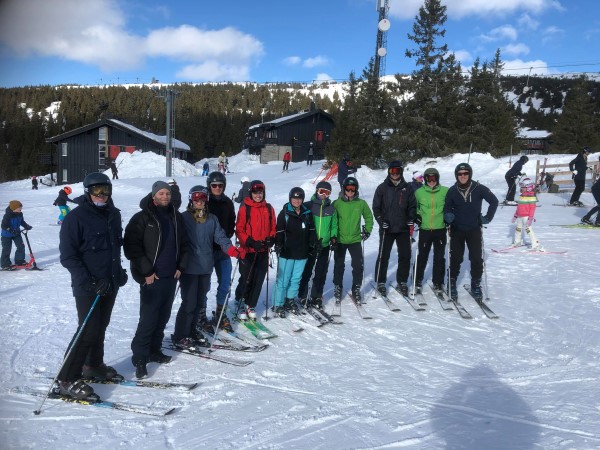 All participants at the Hafjell gathering.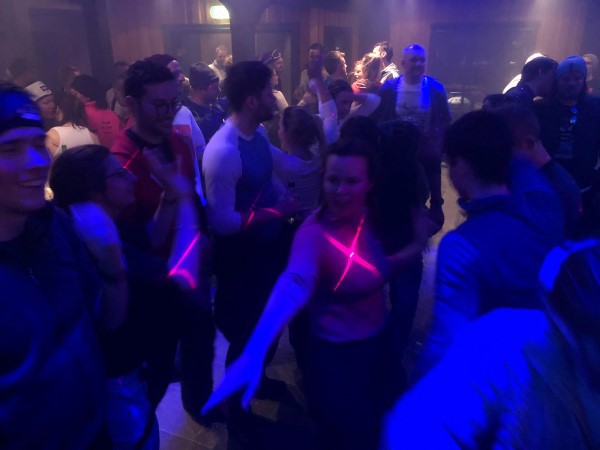 Former trainee Sofie teaching the rest of the group proper after ski etiquette.
It feels like the days are passing by faster and faster, and I certainly hope the next few months will bring even more gatherings (after ski or not) and knowledge about silicon production.