Living in an industry village
It has now been almost nine months since I started my position as a technical trainee, and Elkem has already given me the chance to see an incredibly wide range of academic challenges, people and Norwegian nature.
As I am writing this blog post looking down on a four-lane highway (E18) from an office in Elkem's headquarter in Oslo, the contrast to my first trainee location could not be much bigger. My first rotation was spent at Elkem Bjølvefossen, located in Ålvik, a village of less than 600 people situated in the inner part of the Hardangerfjord. It is time to look back at some of the experience I gained from there.
Being "a fourth-generation smelting plant worker", meaning that my great-grandfather and all generations down to my brother have been working at Elkem Bjølvefossen (to varying degrees; from mechanics to summer substitute receptionists), it was a matter of course to choose this plant as one of my trainee locations. Nevertheless, I was not familiar with the village nor the people of Ålvik. I soon learned that although the population density and frequency of cultural offerings may be low, the friendly, amusing people and the beautiful nature more than compensates for this.
During one of my first weekends there, a yearly festival called Ålvik Rock was arranged. I was told that this was a compulsory event to take part in, and so I did. A lot of concerts were arranged, but my personal highlight was meeting new people at the local pub called Kafé Kraftstasjonen ("Café Power Station"). Other weekends this fall were primarily spent hiking, with destinations such as Torefjell, Skrått, Oksen and of course Vikedalsnebbet, Ålvik's miniature version of the perhaps-more-famous Trolltunga ("Troll Tongue"). A better winter than for years certainly did not hurt, as I was able to go cross country skiing in the trails of Sjusete, ski touring to Tveitakvitingen and go downhill skiing in Myrkdalen.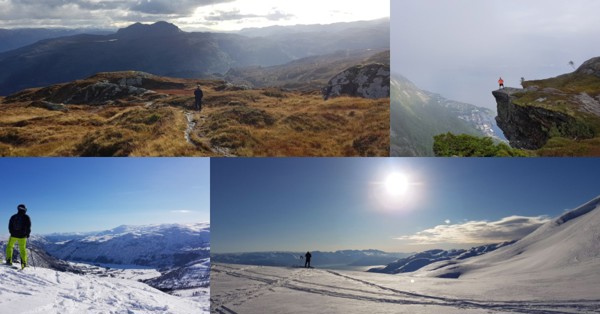 Picture: Descending Torefjell, posing at the edge of Vikedalsnebbet, downhill skiing in Myrkdalen and skitouring to Tveitakvitingen (none of them are me…).
However, being a technical trainee, more time was spent on the plant than in the mountains. With a background from chemical engineering, the transition from quartz, carbon and iron sources to ferrosilicon taking place in the furnaces was the most relevant part of the smelting plant for me. Consequently, I was given the chance to follow the furnace operation shifts closely the first weeks, and I learned a lot from the operators and my mentor, Jan-K. Lutro. During the last two months, I had the honor of being a "process responsible" substitute for one of the furnaces – a challenging, but rewarding experience with good guidance.
It can almost be compared to being a doctor with the furnace itself as a patient. At the beginning of every day shift, the operators and I tried to make a "furnace diagnosis" and decide whether the furnace needed a change in medicine (corresponding to parameters such as raw materials or current through the electrodes). I was also trusted with several smaller projects, such as follow-up of raw material tests, creating a dynamical laboratory analysis report for raw materials and support in training of a new logging system for tapping data.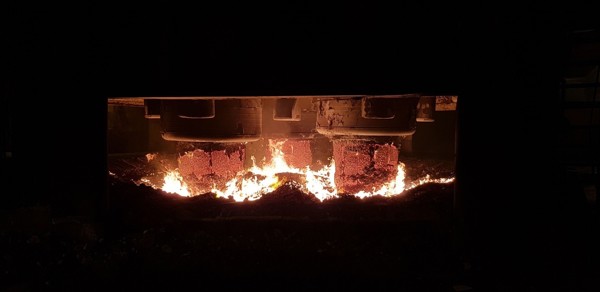 Picture: The three electrodes in one of the furnaces during a maintenance shutdown.
To sum it all up, saying goodbye to Elkem Bjølvefossen was not easy. However, my second trainee period offers a lot of new, completely different challenges. With the Core Technology department at the head office in Oslo as my current base, I am allowed to travel to Elkem plants all over Norway and work with problems related to energy efficiency (after only four weeks here, I have already been to Bremanger, Mo i Rana and Trondheim). Following Elkem's goal of replacing fossil coal with charcoal in the production processes, I am also involved in the PyrOpt project, where the goal is to find a resource-efficient way of producing charcoal. One of the best things about the trainee program so far is the variation in tasks and locations, and things are looking promising for the rest of my stay.