Life at a smelting plant in Hardanger
It is now 1.5 years since I started on my journey as an Elkem Trainee, and so far it has been full of new and exciting impressions and experiences. After my first trainee period in the Battery Materials team at Fiskaa Kristiansand, I moved to Hardanger where I started my second trainee period at Elkem Bjølvefossen. At Bjølvefossen I got a warm welcome from both my mentor and my new colleagues. I also got a warm welcome from Hardangerfjorden, showing its best side with apple trees in full bloom in May.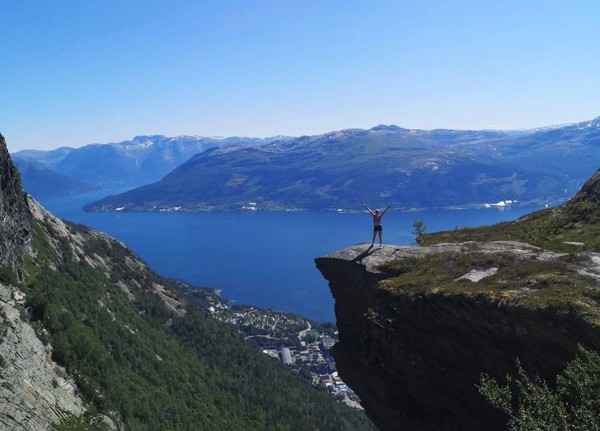 Picture 1: Me at Vikedalsnebbet on a wonderful summer day in Hardanger. Ålvik and Elkem Bjølvefossen can be seen below the edge.
The trainee period at Elkem Bjølvefossen started with a nice tour of the smelting plant, before I joined the FSM department where I was to spend most of my time. FSM is short for ferro-silicon-magnesium, which is one of the main products at Elkem Bjølvefossen. Bjølvefossen has two reduction furnaces, furnace 1 and 5, which produce ferrosilicon (FeSi). The liquid FeSi is transported to the FSM production site where addition of alloying elements and refining takes place to make FSM, which is then cooled and crushed to the desired size. FSM is used in the production of cast iron, and at Bjølvefossen they can produce over 100 different grades of FSM specialized for the customer.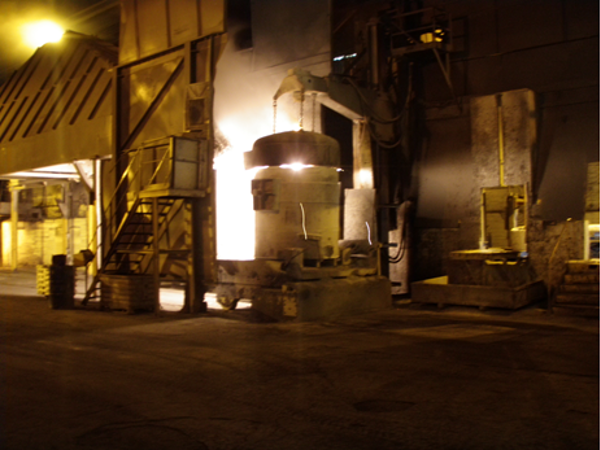 Picture 2: Picture of the FSM production site. The addition of alloying elements and refining takes place in a large ladle and the finished FSM is subsequently cooled at a casting belt.
At the FSM department I first joined the everyday production in order to learn and experience the production process firsthand. Then I moved on to focus on process development tasks, where my main project was to investigate if it is possible to increase the magnesium (Mg) yield in the FSM alloy. This was done by performing tests in production where planning, organization and cooperation with the operators and process responsible was crucial. Apart from the project on Mg yield, I also participated in development projects on refining and mould wash. It was very exciting to work on new solutions for the FSM production process, and I am very grateful that I got the opportunity to cooperate with and learn from so many skilled and dedicated colleagues.
When I moved to Hardangerfjorden I wondered what I would do in my spare time, but I quickly realized that finding activities outside of work is not a problem. In Hardanger you are surrounded by beautiful nature in all directions. I started to explore the mountains and the fjord, hiking to among other Torefjell, Oksen and Tørvikenuten and kayaking across the fjord to Jondal. I have also gotten a lot of new friends, both at work and outside work, sharing my interest in hiking and running. Apart from being outdoor hiking and running, I have also joined a choir in Norheimsund.
​Picture 3: The view across Krokavatnet, one of my favorite hiking destinations in Norheimsund, Hardanger.
As I am writing this, I have started on my third and last trainee period, also at Elkem Bjølvefossen. This time I will follow the metallurgists at the reduction furnaces where the FeSi is produced. So far, I have learned a lot about the process both theoretically and in practice, and I am still learning new things every day.
I strongly recommend spending a trainee period at Elkem Bjølvefossen, where you will get to experience the smelting plant life but also the idyllic surroundings in Hardangerfjorden.