Getting a solid overview of silicon production at Elkem Thamshavn
As I write this, my first period as an Elkem trainee is coming to an end. The sun is shining on the Orkdal fjord and the furnaces are humming quietly. There is a warm atmosphere in the office I am sharing with a few of the process engineers here at Elkem Thamshavn, one of the most energy efficient silicon smelting plants in the world.
Time has passed by quickly since August - it barely feels like yesterday that I arrived at the plant for the first time. I was confused, but excited about this new world. Here and there I would hear strange sounds and see sparks shooting out from molten metal pouring out of gigantic furnaces. Luckily, I was allowed to follow the shifts during the first few weeks, and the once alien atmosphere slowly became more and more familiar. I joined the guys down in the tapping area (where the molten silicon flows out of the furnace) a few days, then I spent some time with the control room staff (where the furnaces and the energy recovery system are operated).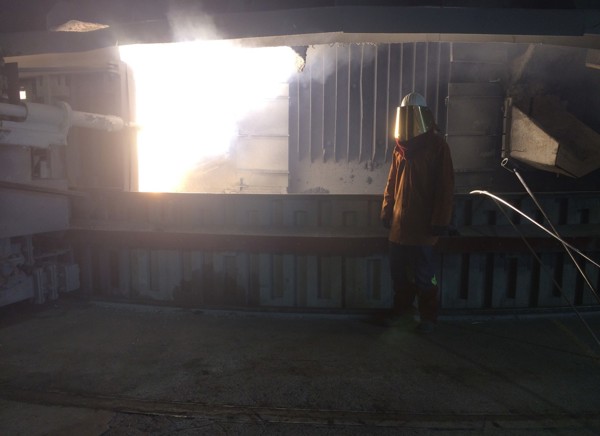 Picture: Wrapped in layers of wool and leather, inspecting the tapping during my first days with the shifts.
I soon learned that my main trainee project would deal with furnace stoking. This is a procedure performed by the control room operators, where one jumps into what looks like a giant go-kart equipped with an extended steel "nose" that can move masses around inside the furnace. This is done to prevent undesirable build-up of energy inside the furnace as well as to bring raw material close to the graphite electrodes.
A few days into my Elkem trainee career, I was taught how to stoke! Suddenly I was maneuvering this strange vehicle, heart beating fast, trying to swing the steel arm around inside the world's largest silicon furnace.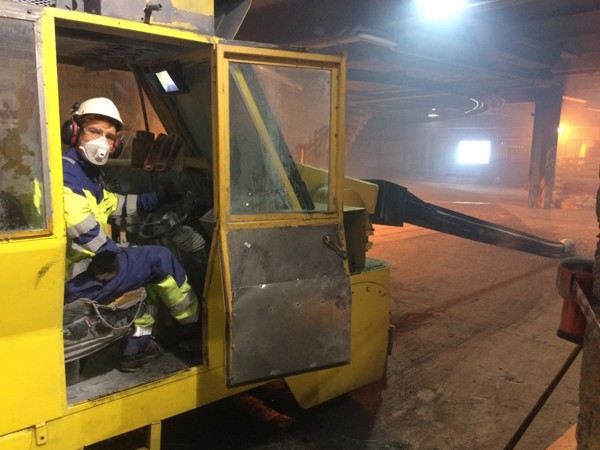 Picture: A proud moment of my career this far: I tamed the stoking car.
As a trainee, you are luckily not on your own. The programme is designed to let you have your own mentor at the various locations. At Thamshavn, mine was Délphine Leroy, who is responsible for furnace 2 – the largest silicon furnace in the world as of 2018, with a power consumption of 42 MW. Most people don't realize just how much this is. Do you have an electric kettle in your kitchen? Imagine stacking 19.000 of those together and turning them all on simultaneously. That's the level of energy we are dealing with here.
Délphine is a skilled metallurgist who is involved in many of the ongoing projects at Thamshavn, and she made sure that I could take part in a few. In fact, I was responsible for three projects during my stay. First, I was engaged in standardization of furnace stoking, ultimately leading the production of a standard operational procedure document and a twenty-minute long film aimed at new operators. Secondly, I investigated how we could optimize the moisture analysis of raw materials performed by the operators. This work led to changes in the operators' routines and the installation of a new drying cabinet as well as new sample collectors. The last project - still ongoing - deals with how we can tune the radiclone (coarse particle screener) to get the most out of the off-gas silica.
Through these projects, I could, among others, work with the operators, mechanics, electricians and process engineers. I think this was quite advantageous, as I learned to know the life of the plant from multiple angles.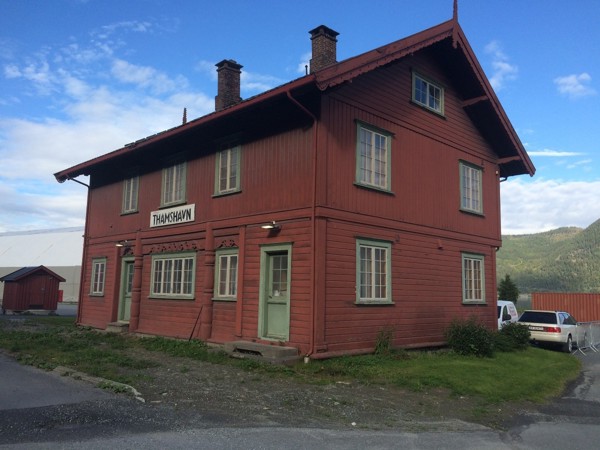 Picture: The plant sits on historical grounds. It houses some historical buildings, such as this original railway station from 1908, part of Norway's first electrical railway, Thamshavnbanen.
Finally, I was fortunate enough to join my very good colleagues on various social events, including an authentic "Trøndersk" cabin trip and a memorable Christmas party. It feels strange to leave the plant and its staff who have taken good care of me, but new adventures await at Elkem Salten in a few weeks.
See you, Thamshavn!