My First Year as a Trainee: From R&D to Smelting Plant
I have worked for a year as a trainee in Elkem Technology Fiskaa and I have recently started my second outplacement at Salten Verk in Nordland. In this blog post I will share my experiences and learnings from this year as a trainee, which is also my first year in working life after university. I handed in my master's thesis in February and was fortunate to start working in Kristiansand in April, a few months ahead of the trainee onboarding week.
As a physics and material science enthusiast I was thrilled to get my first outplacement in an R&D team at Elkem's center for innovation and technology. There are so many interesting innovation projects in Elkem Technology, some of which have developed into a start-up or a company like Vianode and REC Solar. Currently, Elkem has a significant focus on developing solutions for reducing the CO2 footprint in production of silicon and silicon rich alloys, and I was included in two projects that will tackle this important challenge.
My primary project this year focused on improving properties of Elkem's biocarbon pellets, which is a pelletized and compactified type of charcoal. This is an important step towards the goal of reducing our carbon footprint by 39% before 2031. Biocarbon will replace much of the fossil coal we use as a reductant in the silicon furnace. However, there are several challenges that need to be overcome for biocarbon to work as a reductant. Traditional biocarbon such as charcoal has low mechanical strength and low density compared with coal, but it also has some intrinsic advantages such as high reactivity towards SiO-gas. My task was to gain understanding of the properties of biocarbon through laboratory work and computer simulations and suggest improvements in production to make biocarbon pellets a better raw material for silicon production.
I was given a lot of freedom to suggest and perform experiments in the laboratory in Kristiansand, and it was a rewarding experience to see the differences between research in industry and at the university. The research I have been involved in through the past year has been more application-oriented and specific than what I was used to from university. A positive experience for me has been to see our work directly affect production.
During my last months in Kristiansand, I was involved in a second project with the intriguing goal of developing a CO2-free silicon process. The concept is based on carbon looping, where carbon oxides in the process off-gas is captured, converted to solid carbon, and reused in the process. I learned a lot from working in this team of highly skilled research engineers in an environment that felt much like working in a start-up because the project is still in an early phase. Also here I was involved in experimental work with carbon materials and simulations of the silicon furnace.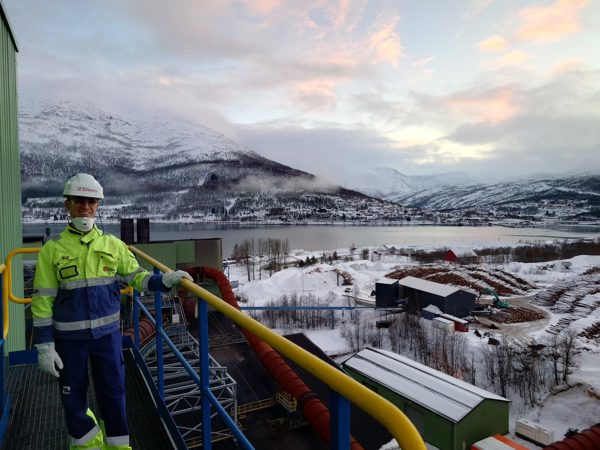 Laurenz at Salten Verk during our visit in January '22.
Just before easter my trainee outplacement in Kristiansand ended and I packed my car and moved to Salten where I have now been for a month. I am happy to be here together with another trainee, Laurenz, as we can collaborate on projects and support each other. Our tasks here are related to instrumentation and measurement systems, but we will also participate in daily operations at the plant. The transition from laboratory work to production has been very exciting so far. The workday at the plant is fast-paced and there are always many things to be done. Being involved in practical tasks at a smelting plant after working in research is a valuable experience. Here I can see the potential benefits of innovation projects in practice and experience how they are implemented.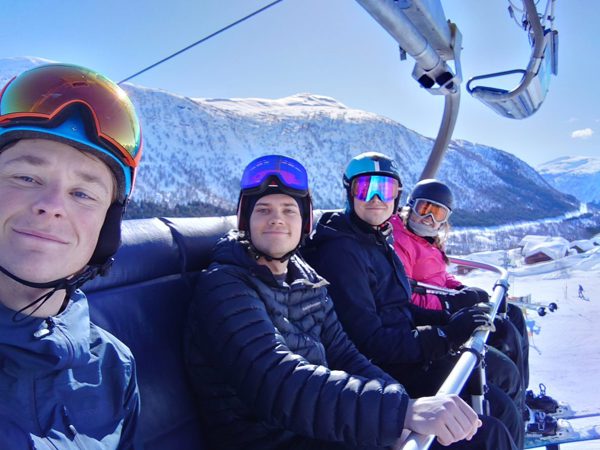 Skiing trip during the trainee winter gathering in March. From left: me, Andreas, Benjamin and Ingeborg.
One great thing about the Salten area is the beautiful nature, which is perfect for outdoors activities such as touring skiing and climbing. We are taking full advantage of this during our time here as we have already started to explore the mountains in the region, and we are looking forward to many trips during our stay.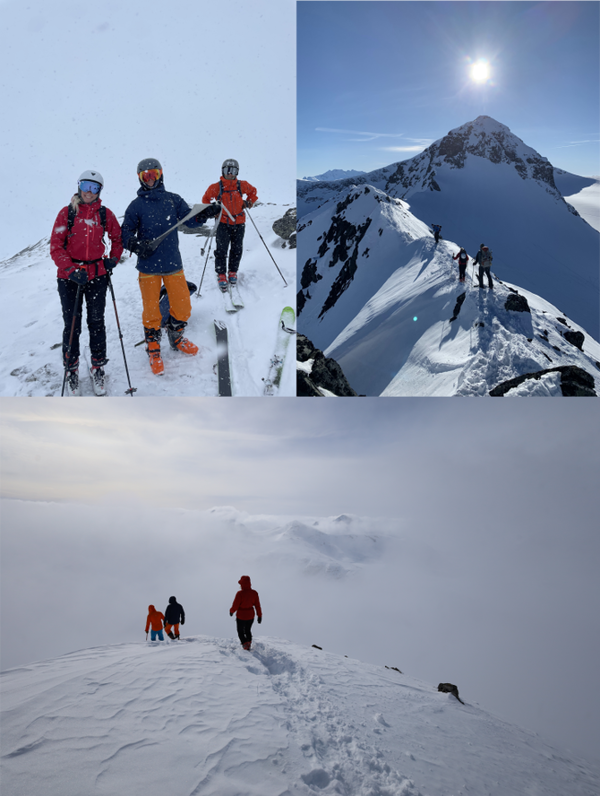 Touring skiing in Sjunkhatten National Park in Salten and on the way up to Salten during easter.