MATLAB, IR images and fishing trips
Approximately eight months has passed since I started as an Elkem trainee.
So far, I have got to know many people who are all welcoming and always ready to answer whatever questions I might have as a new employee. Elkem provides a great opportunity to gain relevant work experience through the trainee program.
When I started in Elkem august last year, all trainees met in Kalvåg for a week with courses and social activities. It was nice to get to know all current trainees and to become more familiar with the trainee program and Elkem in general. We visited Elkem Bremanger, where we got a guided tour around the production site to learn about the furnace processes and the different parts of the plant.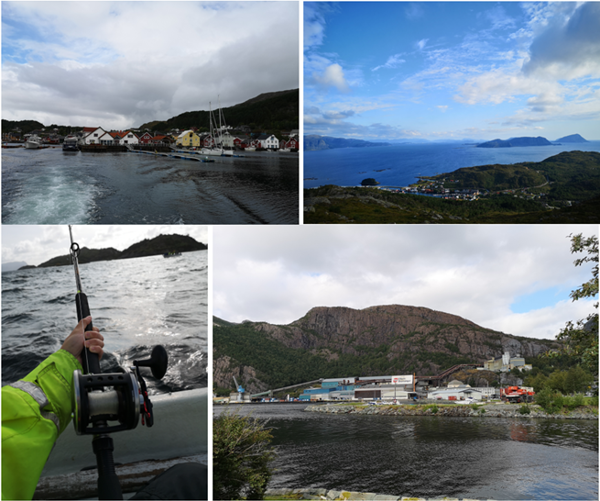 The social activities in Kalvåg included hiking trips in the nearby mountains, and a fishing trip, where I unfortunately did not catch anything.
My first trainee period was in Kristiansand where I worked at the department of control systems in Elkem Technology. During my time there I participated in several different projects within digitalisation. I performed tasks related to calcining furnaces at Elkem Carbon, and one of the projects here was to investigate how a new discharge calculation method could improve stability in the production process.
My responsibility in this project was to continue working with MATLAB simulations that had previously been developed, and to perform statistical analysis of the results gathered from these simulations.
I also spent some time making visualizations and reports of production data using Power BI. To increase my knowledge of calcining furnaces I spent three days working together with process operators at Elkem Carbon Fiskaa to learn things from a more practical perspective, which I believe is the best to fully understand a production process.
The view on my way to work in Kristiansand. It was only a 6-7-minute walk from my apartment to the office.
A different project that I participated in was the utilization of IR cameras as tools in production processes, for example to detect slag during casting or for temperature measurements. In this project I got the opportunity to use some of my knowledge within deep learning and image classification to train neural networks using Python and TensorFlow to classify IR images. Through collaboration and discussions with fellow team members I also learned about casting of silicon and how some of the furnace processes work.
Left: A small computer module for general image processing and machine learning. Right: Test of IR camera and software.
I would like to thank the people at Elkem Technology in Kristiansand for a nice first trainee period, and a special thank you to everyone at the department of control systems. My second trainee period will be at Elkem Thamshavn. I look very much forward to continue with new and exciting tasks!