Bringing a silicon furnace back to life
Being a trainee in Elkem gives you a wonderful opportunity to get to work with some truly remarkable things. Like walking inside a silicon furnace. "Walking inside a silicon furnace?", you might think, and rightfully so. Normally you would hesitate to enter a chamber that normally handles more than 37.000.000 watts of power. Unless, of course, the furnace pot is being rebuilt, and you are a curious trainee taking part in the project!
Since March, I have been lucky enough to spend my second period as an Elkem trainee at Elkem Salten in the north of Norway. It is one of the largest silicon smelting plants in the world with three silicon furnaces whose combined electric load exceeds 115 MW.
The first few months were dedicated to a project where we replaced the lining of furnace #2, as it was old and ready for retirement. The lining is what protects the outside of the furnace from the molten metal inside and consists roughly of a steel casing, bricks and a thick carbon layer. The old lining was removed with excavators and chisels: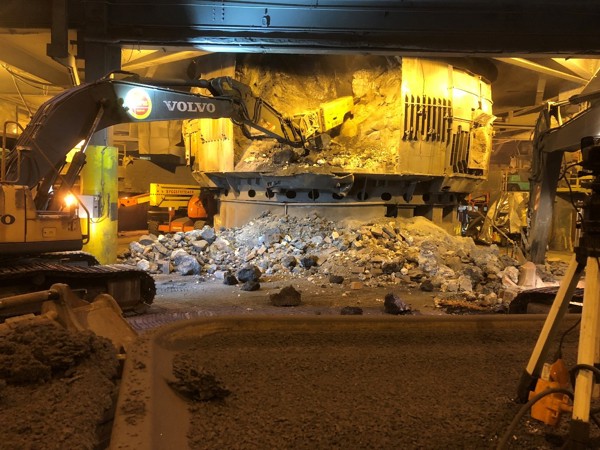 It is an adventure to open up a furnace, you never know what awaits inside.
When you open a silicon furnace, no one knows precisely what you are going to find inside. A universe normally concealed from us is suddenly revealed as the excavators remove more and more of the furnace's solid content. Watching its buried secrets slowly being exposed is quite exciting. Different metal phases appear, electrode parts show up, and suddenly a big lump of silicon carbide is unveiled.
This goes on until nothing is left. Then the process reverses itself, and the whole furnace pot is rebuilt. This was more complex than I had imagined. The whole place felt like an ant colony, with mechanics, engineers and operators swarming around. My responsibilities during the relining was to install and monitor thermocouples ("thermometers") inside the carbon layer of the new lining and feed this into a simulation that the metallurgists relied on when ramping up the power again. You should only start metal production once the carbon lining has been sufficiently baked, and the simulations are therefore quite important.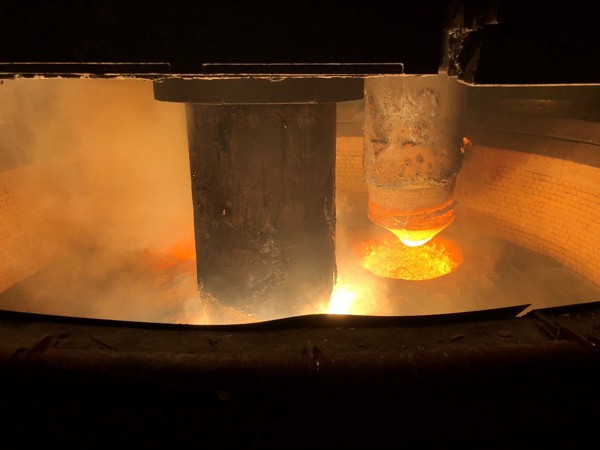 A peek inside the furnace some days after the power was turned on. A rare sight!
After some truly exhausting, but rewarding weeks of work, it was time to breathe in some pure north Norwegian air. Elkem Salten is situated in one of the most varied parts of Norwegian nature. Not far from the plant, you can go hiking to peaks towering almost 2000 meters above you, surrounded by glaciers and green lakes. You can go climbing in the national park of "Sjunkhatten" or explore some of the biggest caves in Scandinavia and enjoy the spectacular Saltstraumen in the midnight sun. I even took the opportunity to fly down from some of the summits with my paraglider.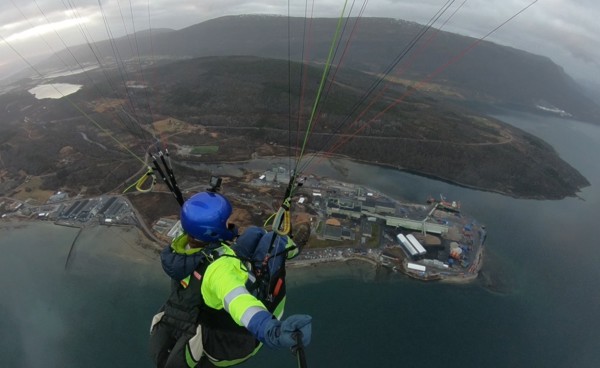 As a trainee, you might literally get a "unique approach" towards the silicon industry. Elkem Salten far below.
The last months I have worked with the production management and have dealt with many various tasks related to furnace operations and processes. As a trainee, working on many different projects makes you meet a considerable number of people in the organization. I feel very lucky to being able to take part in the trainee program. If you are a student I would certainly urge you to apply if it sounds exciting. In a few months I will head off to the Elkem Silicones plant in Lyon, France, and it will not be easy to say goodbye to my very good colleagues here at Elkem Salten.