Elkem around the world: Ferroveld, South Africa
Meet Dumisani Makhoba – a seasoned leader and the plant manager of Elkem Ferroveld who runs half-marathons to stay healthy.
Elkem around the world
21.03.2023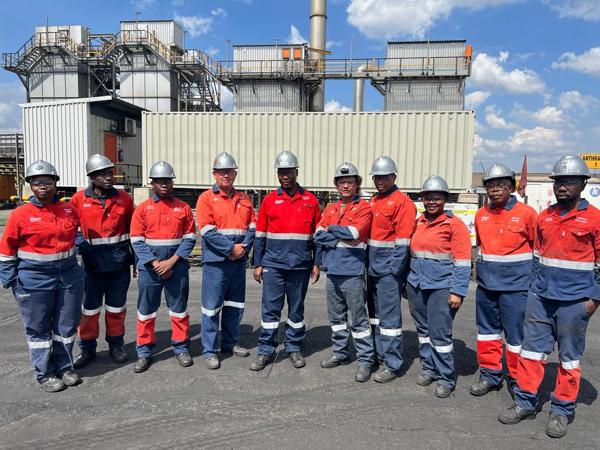 Dumisani started his career as an electrical engineer at a power station. Throughout his career he has held various managerial positions but stepping into the leader role didn't come naturally to Makhoba at first. "Learning how to manage people was the challenging aspect of the job", Dumisani admits when asked about his early days as a manager. Nevertheless, he rose to the occasion and learned the skill of engaging people to create an environment where they could come up with their own solutions to problems and find innovative ways of doing things. As a leader, he came to understand that the most important part of his role is to coach and to guide. "People enjoy a challenge, and you need to provide them with the right opportunities and resources," he says.
Dumisani spends most of his weekdays in eMalahleni to stay close to the plant. During the weekends, he travels back to Johannesburg to spend time with his family. "Being a plant manager is hard work," he acknowledges. "It's my job to make sure we meet our goals as a business and remain profitable. Every day is different, and it keeps me on my toes", Makhoba further explains. To keep his mind sharp and his body healthy, Dumisani likes to go for a walk or a run after work. Every other week, he takes on the challenge of running a half marathon. By prioritizing his well-being, Makhoba manages to maintain the energy and focus necessary to fulfill the responsibilities of his role.
Cross-cultural joint venture
Elkem Ferroveld was established in 1974, as a joint venture between Samancor Ltd and Highveld Steel & Vanadium. Dumisani joined Ferroveld in 2007, the same year Elkem acquired the 50% stake of Ferroveld from Highveld Steel. The plant is located at a larger Samancor-owned industrial site. Ferroveld exclusively produces Søderberg electrode paste, an Elkem patent dated back to 1919 that revolutionized the smelting industry, and it has since enabled the production of various metals and alloys for Elkem's customers across the globe. Of the 56 Ferroveld employees, four are employed by Elkem while the remaining work under Samancor. Thus, one of Dumisani's main priorities and challenges as a plant manager has been to implement Elkem's EBS practices and find a good balance between the two cultures.
"We want people to be involved", Makhoba says when talking about the culture at Ferroveld. They use 5S, one of the core pillars of the lean methodology Elkem Business System (EBS) is based on, Toyota Production System, to enable innovation and increase elimination of waste at the plant. Although the business arrangement adds some complexity to decision-making, Makhoba confirms that the EBS training and resources is reinforced with all Ferroveld employees.
Local responsibility and community projects
Education indicators are pointing upwards in eMalahleni signaling a positive development of local resources for Ferroveld. However, the unemployment rate remains high increasing the pressure on large employers to create business opportunities locally. The local community requires employment, business opportunities, and local projects. Stakeholder engagement meetings enable them to meet with the community on a regular basis to maintain a close dialogue.
To give back to the community and educate the local workforce, Ferroveld offers learnerships. Learnerships are work-based learning programs that lead to an NQF registered qualification. Ferroveld employs 10 learners for six months twice a year and train them at the plant. Not only does this help prepare Elkem's talent pipeline for the future, it also is a way for Ferroveld to share invaluable knowledge and expertise acquired over several decades of operating in the area. "When they finish the program, the learners walk out with skills and relevant industry experience", Dumisani states.
Another project initiated by Ferroveld created 15 new local jobs. As a part of the packaging of the electrode paste, Ferroveld uses pallets. This opened an opportunity to engage the local community. As a result of the plant's efforts, the pallets are now manufactured locally right outside the plant. "This is one of our truly remarkable projects. We created a business opportunity for the community and have helped developing the business since its inception", Makhoba affirms.
"We have to be very careful with who we partner with, and we try to uplift the community as much as we can", Dumisani emphasizes when talking about one of his greatest accomplishments as a plant manager at Ferroveld, the Calciner Gas cleaning plant. This project showcased Elkem's commitment to securing sustainable economic growth with limited environmental footprint and its support to the local community. The Ferroveld team has been working on the project since 2013, and the first of the three phases was completed last year. Ferroveld is equipped with six Elkem designed electrical calciners for calcining of anthracite. In phase 1 and 2 of the project, they are reducing particulate matter from the calciners and in phase 3 they will work to reduce sulfur emissions. They are currently working on the commissioning of phase 2 and the engineering study for phase 3, where they also research how they can reuse the heat generated at the plant. About 70% of the 60 people working on the project were locally sourced, an agreement between Elkem and the contractor of the project to secure the community's interests.