When smart technologies and advanced materials meet human feelings
Advanced Manufacturing & Industrial
15.05.2023
Elkem is always on the lookout for new opportunities to provide advanced silicone materials to different areas of human endeavor: industrial manufacturing, aerospace, medical applications, sports and leisure, etc. The company also seeks to establish partnerships with all sorts of companies, from large multinationals to small startups and to explore new and promising methods of production, such as Additive Manufacturing, also referred to as 3D printing or AM/3D. In this article, we start with an overview of how Industry 4.0 is developing innovative manufacturing processes and using advanced materials, including silicones, all of which converge to deliver technical products that respond to human needs and feelings. To illustrate this trend, we feature a recent winning initiative to develop highly-personalized products with a 3D startup for high-level biathlon competitors and look at further prospects in the world of sports.
Getting it right technically so that it feels right for people
We have entered the age of Industry 4.0, which is radically and rapidly transforming how industrial companies design, manufacture, streamline and deliver products and services. This shift involves a combination of smart self-learning technologies and machines using the Internet of Things (IoT), collaborative production lines, big data, cloud computing, analytics and AI, combined with the use of advanced materials, including silicones. For several years now, AM/3D has been at the very heart of this change in processes since the 1990's, having at first enabled manufacturers to streamline the design process, through direct rapid prototyping using Computer-Aided Design (CAD) systems and data.
Today, AM/3D is at the cutting edge of the actual physical production process, making it possible to fabricate truly customized and personalized products. This is especially significant in the creation of sophisticated objects and parts with advanced features using new materials: complex shapes, production of specific mechanical properties with different degrees of hardness and/or flexibility, resistance to wear-and-tear and harsh environmental conditions, shape memory, etc. These new capabilities are changing the core dynamics of manufacturing with the end user's needs increasingly piloting specifications. This means that tailor-made is the new normal for many manufacturing specialist parts, complementing improved mass production of standardized products. It's a little like using F1 cars to improve regular passenger vehicles or designing new sports equipment for high-level athletes that then trickles down to mass-produced leisure products. In fact, leisure products, such as customized running shoes, are also being made available to the general public to give people the sensations they seek for exercise and sports.
The challenge for designers and engineers is therefore to come up with the technical solutions that consider the subjectivity of human needs. This tightens the links between manufacturers and consumers and translates, in large part, to making objects based on user "feelings". This must be understood in both senses of the word, i.e. the look-and-feel of products and the hard-to-define emotional and subjective sensation that end users are looking for. In this regard, Elkem designers and engineers have developed their sensitivity for "feelings-based products" over the years in medical and dental applications where they provide very different materials to health professionals who have a sixth sense of patient requirements. In other words, medical practitioners know what's right for their patients, but depend on scientific understanding and versatile technology to get it right technically.
AM/3D in step with its times
AM/3D is not only more efficient and adapted to user needs, but also more sustainable since it is less wasteful, using only the materials that ultimately make up the final product. It is also driving the development of new business models, such as decentralized production, particularly important in our age of unstable supply chains and a growing demand for shorter circuits to lower transportation costs and lessen environmental impact. Industrial manufacturers in all sectors are looking for applications that will improve their industrial performance and agility to respond to changing needs and respond to demand for more repairability, for example. Thus AM/3D is useful in many operational applications, such as manufacturing spare parts rapidly close to the customer's manufacturing facilities (or even within their own facilities), retrofitting of critical parts with more durable and reliable materials, making new parts with enhanced weight, aesthetic or comfort characteristics, etc.
Elkem and Athletics 3D: a meeting of minds
In this spirit of personalizing products, in April 2022, Elkem partnered with Athletics 3D, a young French startup specializing in the design and manufacturing of personalized products for high-level athletes. Together, they successfully combined their talents and skills to produce winning bullet holders for biathlon champions at international competitions, including the World Championships.
It all began in when the two companies found themselves across the aisle at the 3D Print Exhibition in Lyon. Elkem was showcasing its portfolio of solutions for AM/3D and Athletics 3D was demonstrating how their AM/3D technology was capable of providing tailor-made equipment for biathlon athletes. Informal discussions began between the big global provider of silicones and this small startup. Clément Jacquelin, a former biathlon world champion and founder of Athletics 3D, explained to Elkem engineers one day that high-level athletes seek "scientific and technical solutions that not only provide their performances through added value technologies, but above all respond to their emotionally-charged feelings that the equipment is truly part of their being. In a way, when the product is right, they forget about the technology and focus on their competition."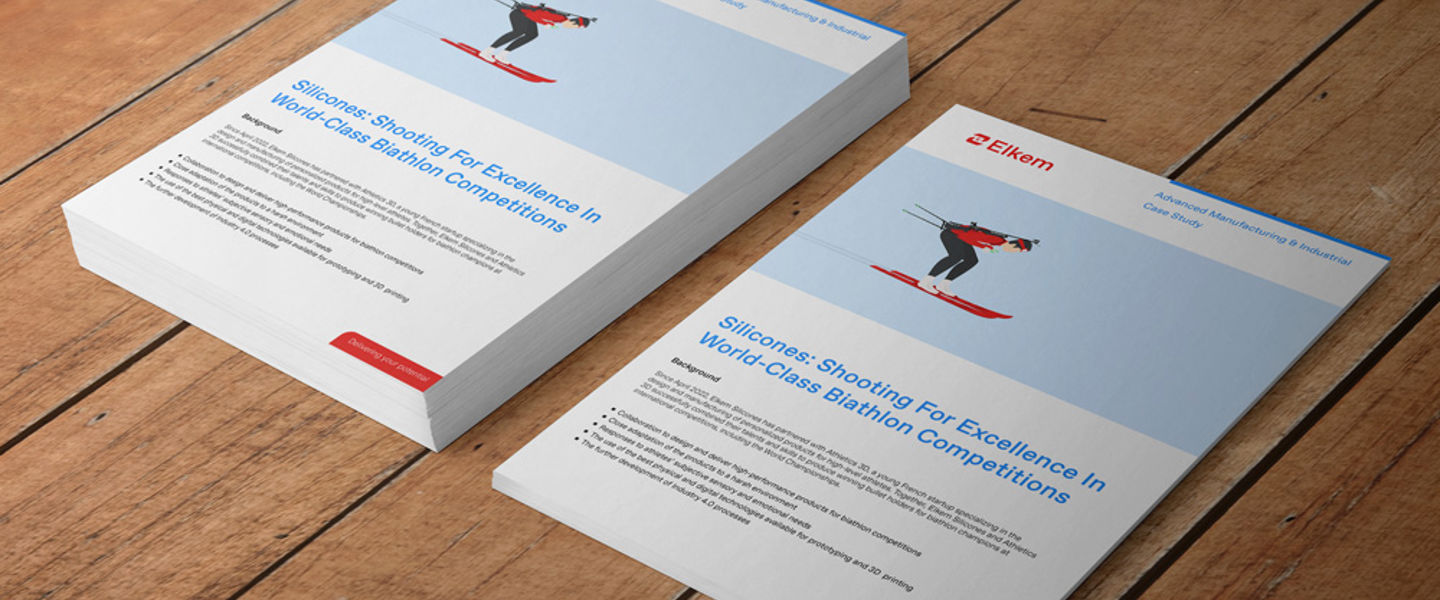 Case Study
Silicones: Shooting For Excellence In World-Class Biathlon Competitions
Emotion in motion
Discussions continued throughout the trade show about how silicones offer sports equipment makers unique properties and versatility that enhance performance, durability, comfort, safety and protection. The added dimension of personalized gear that athletes can relate to emotionally, was integrated into the design brief for Elkem.
The Elkem and Athletics 3D people who had met at the trade show then decided to work on a key item in biathlon competition: the rifle bullet holder. The resilient properties of silicone elastomers subjected to changing temperatures and cold water and ice, linked to the design and AM/3D capabilities of Athletics 3D, was the starting point to develop a new enhanced part for high- level athletes. The design brief was to improve the reliability and performance of the rifle bullet holder, to prevent wear and tear on the equipment to achieve trouble-free shooting and, ultimately, to give athletes the confidence and comfort they need in these key moments of stress in intense competition. In other words, the equipment needed to be accurate and durable, providing consistent and hassle-free performance over the long run.
Combining intelligence and techniques to win over athletes
The teams form Athletics 3D and Elkem then embarked in a cycle of innovation iterations, in which they continuously refined and improved the selected part, looking for the right combination of technical features, such as accurate dimensioning, durability under duress and consistent performance in all circumstances. The process involved the design and creation of prototypes, and technical testing. However, the key criterion for success, once past the technical stage, was to analyze the feedback from the athletes, to make further technical improvements based on their subjective and emotionally-driven considerations and feelings.
This kind of subjective input is something that Elkem Silicones experts have been used to considering, for a long time now, in the design and manufacturing of elastomers for medical prostheses and dental applications. Medical practitioners and patients know what feels right, but don't know how what chemical and physical features are needed to get prostheses and implants right. It's therefore up to Elkem designers to adjust their formulations and respond to end user iterations.
On track for success
After six months of collaboration between the two companies, the final bullet holder was made available, after having met the desired technical level of quality and performance, as well as being approved by the athletes. Throughout the 2023 biathlon winter season and, most recently, at the World Championships, the new parts were used by select athletes, helping them to perform well in competitions and win several highly sought-after medals.
Continuing on a winning streak
Based on the encouraging results of this first winning effort, Athletics 3D and Elkem Silicones have decided to pursue their collaboration and extend their research and development beyond biathlon applications and work on other sports-related subjects.
The use of products made with high-performance silicone elastomers, combined with the benefits of AM/3D printing for personalized products, have now opened up new opportunities to accelerate the time-to-market needed to design and deliver innovative solutions, constantly improving quality to achieve unprecedented levels of athletic performance in a multitude of sports with Industry 4.0 techniques and processes.
The partners agreed to further explore combined development possibilities in both biathlon and other sports based on the following principles:
Collaboration to design and deliver high-performance products for high-level competitions
Precise adaptation of products to harsh environments and the wear-and-tear of intensive use
Close consideration of athletes' subjective sensory and emotional feedback
Use of the best physical and digital technologies available for prototyping and 3D printing
The further development of Industry 4.0 processes.
What are the chemical underpinnings of silicone elastomers?
Silicone elastomers are made with a combination of linear polymers, reinforcing agents, a crosslinker and a catalyst. The viscosity and type of the basic straight-chain molecule combined with the processing temperature determine the type of elastomer produced: Heat Cured Rubber (HCR), Liquid Silicone Rubber (LSR), and Room Temperature Vulcanization (RTV). These elastomers can be reinforced with additives, such as mineral fillers, such as silica, alumina, calcium carbonate, silicone resins, etc. Radical, condensation or additional crosslinking reactions may be used depending on the technology chosen to meet precise processing requirements.
Silicones are therefore characterized by their unique combination of customizable properties, including durability, water repellency, biocompatibility and flexibility. Typically, heat- and cold-resistant and rubbery, they are used in molding, sealings, adhesives and lubricants to make products for medical applications, automotive parts, aerospace, electronics, cookware and, of course, sports applications for both leisure and competitive use.
Silicone elastomers can be used in a wide range of manufacturing processes to achieve the required specifications for end-user parts specifications including injection molding, casting, extrusion and, increasingly, AM/3D applications.